Yukon Bridge Building Contest
Engineers Yukon and the Science Adventures program are proud to present the Annual Bridge Building Competition.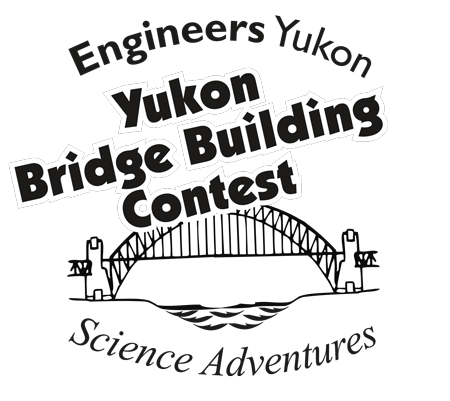 Overview
To help promote the engineering profession within Yukon, Engineers Yukon and the Science Adventures program are sponsoring a model bridge building competition. All are invited to participate in this friendly hands-on contest. We would especially like to encourage Community schools to join in the competition.
You will be introduced to basic engineering principles in a fun format and gain a better understanding of the impact that engineering has on your life. Thousands of wooden stir sticks are just waiting to be glued, tied and destroyed!
When
Saturday, April 8, 2017
Where
Porter Creek Secondary Gym, Whitehorse, Yukon
Rules
The "Official Rules" have been developed to give everyone the same fair advantage. Please follow them closely to avoid disqualification.
You may obtain the "Offical Rules" from the Science Adventures website
Registration
Registration forms and separate instructions for teachers and participants may be downloaded from the Science Adventures website or you may contact 668-8739 for details.
Objective
The objective of the competition is to construct the lightest bridge that will span a distance of 700 mm while supporting the heaviest weight.