Kenneth Baker, P. Eng.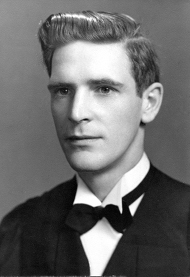 Ken Baker was born in Halifax January 12, 1925. After serving in the RCAF during World War II, he took advantage of veterans' benefits, and studied civil engineering, graduating from the Technical University of Nova Scotia in 1951. He re-enlisted, this time in the Canadian Army, and was assigned to the Royal Canadian Engineers in Chilliwack. In January, 1952, he was posted to Whitehorse as a Bridge Engineer, with the No. 1 Road Unit, which was responsible for the maintenance of the Alaska Highway.
Ken became Territorial Engineer for the Yukon government in 1955. Then, between 1959 and 1961, he worked for the private sector, during which time, as engineer for Proctor Construction, he was involved in the construction of a 381-mile winter supply road for oil exploration north of the Arctic Circle. Returning to the Yukon government, he served for another 19 years, first as Director, then as Deputy Minister of the Department of Highways and Public Works. He retired in 1980.
In 1981, he was awarded life member status in the Association of Professional Engineers of the Yukon Territory, of which he was a charter member. In 1987, he received an honorary doctorate from his alma mater. Ken Baker passed away August 20, 2000.